Designed to Impress
Smartwatches are essential nowadays as the 'smart' experience has moved on from just the smartphone. With a smartwatch strapped to your wrist, you can check all your messages and emails, control the music you play, make payments, manage your schedule, and so much more. So it's no surprise that the smart wearables segment has enjoyed a steady growth in India!
However, there is also a considerable variety in the kinds of smartwatches that are available to the consumer. From entry-level products to the ones that are too expensive. It is rare for the smartwatch connoisseur to come across a product that brings the right mix of premium features, and design at an attractive price. That's where OPPO's expertise in making smart wearables comes in. High on the back of the Enco range of truly wireless earbuds that have swept the competition off its feet, OPPO has launched its first smartwatch lineup, named the OPPO Watch series.
Launched along with the OPPO Reno4 Pro smartphone in India, the brand new OPPO Watch series is set to take the smartwatch and smart wearables segment in India by storm thanks to the numerous features and innovations it has to offer. Let's take a look at the key aspects that make the OPPO Watch, the ultimate choice for the smart, health-conscious individual. The OPPO Watch is available in two versions; 41mm and 46mm, and in this article, we take a look at the flagship 46mm model. The 46mm variant of the OPPO Watch is priced at Rs 19,990, while the 41mm variant costs just Rs 14,990. Both these excellent smartwatch models are already available for preorder via Amazon.in and will go on sale starting August 10th, 2020.
All the Google apps on your wrist
Powered by Wear OS by Google, the OPPO Watch is loaded with a plethora of Google apps and services. You can also access all the apps developed for the Wear OS platform and enjoy a wide variety of functions, ranging from quick access to messages, payment with NFC, quick glance at phone calls, and even checking your e-mail without your smartphone. The OPPO Watch also supports Google Assistant functions and can help with tasks such as calendar reminders, translations, andturn-by-turn navigation.
Watch VOOC Flash Charging
OPPO is arguably the global leader in fast charging technology and has more than 2,800 fast charging related patent applications to its credit. As the company behind several smartphone-related fast-charging innovations, ranging from VOOC fast charging to the latest 65W SuperVOOC 2.0 fast charging seen on the Reno4 Pro, it was only natural that the OPPO Watch also features fast charging support. This is precisely why OPPO developed its customised fast charging solution for smartwatches called, Watch VOOC Flash Charging.
With this technology, the OPPO Watch takes just 75 minutes to fully charge its 430mAh battery. If you're in a hurry, only 15 minutes of charging is enough for the OPPO Watch to charge to 46 percent. This is much faster than anything else on the market and saves the user time and gets them away from the charger and on the move quicker than ever! With Watch VOOC Flash Charging, OPPO Watch users will have a huge lead over others and help them gain the edge that's so sorely needed in this competitive world.
OPPO Watch features a dual-chip endurance system that lets it switch between the Qualcomm Snapdragon Wear 3100 SoC and the Ambiq Apollo3 MCU for optimum power efficiency and performance. This feature further complements the OPPO Watch charging and power efficiency experience.
OPPO Watch features two modes: Smart Mode and Power Saver Mode. When in smart mode, the OPPO Watch provides a comprehensive smart experience with substantial battery life (up to 36 hours on a full charge). Then there is the dedicated Power Saver Mode in which all basic functionalities continue to work as usual, including display time, route tracking, heart rate notification (up to 21 days on a full charge). All these functions are handled by the efficient Ambiq Apollo3 MCU, thereby offering all key functionalities with the added advantage of improved battery life. The Power Saver mode on the OPPO Watch can be manually activated by pressing and holding the multi-function button for 2 seconds or when the watch prompts you to do at 20 percent and 10 percent battery levels.
AI Watch Face features: Unparalleled customization
OPPO Watch comes with a fully customisable AI Watch Face feature to ensure that your watch face is unique and suits your personal tastes. To use this feature, you only need to photograph your outfit using the HeyTap Health app and let it generate a matching watch face using AI. Then there's the Memories album watch face that enables you to use a photo of a place or a loved one as your watch face wallpaper. For fitness enthusiasts, there is the Daily Activity watch face that shows a summary of your health-related data on the screen.
Caring for your heart with always-on heart rate monitoring and ECG sensor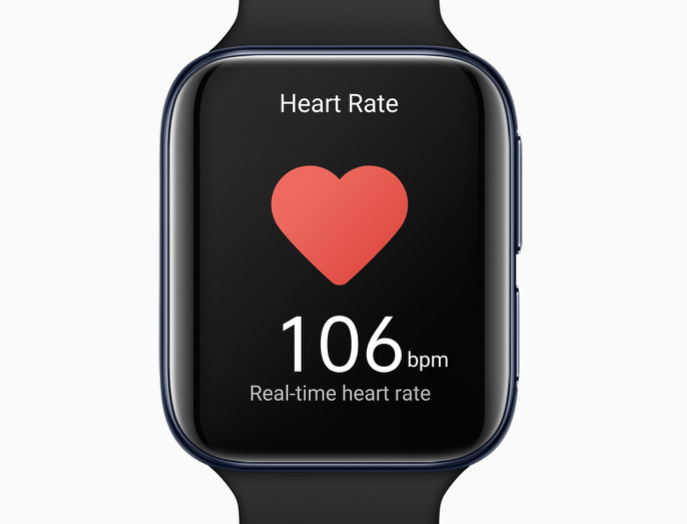 OPPO Watch can analyse your heart rate round the clock. Add sleep-monitoring features to the mix and what you have is a comprehensive solution to keep a constant vigil for your heart. It can track your heart rate immaterial of the activity you are performing and even generate a report. Perhaps the most important and lifesaving feature of the OPPO Watch is its ability to detect an irregular heartbeat and also send a notification to alert you about possible abnormalities in your heart rate that can be potentially addressed by a doctor. It manages to achieve this because of an ECG sensor. This constant analysis also lets you easily track anything that you feel is out of the ordinary.
The OPPO Watch also features a comprehensive sleep management suite that not only monitors the amount of time you sleep but also keeps a close watch on the quality of sleep you have. It can monitor the amount of time you are awake, in deep sleep or in light sleep. It also generates a sleep report for you in the morning so that you can monitor how well you slept last night.
A professional coach on your wrist!
Armed with a plethora of sensors, including GPS/GLONASS navigation system and Google Fit™ support, the OPPO Watch can track various activities, such as jogging, running, and cycling. It can track your daily route and help you improve on your timings and even help you set goals for the future. With the 5-Min Workouts app, the OPPO Watch lets you watch and perform quick 5-minute exercises. This feature will be of particular interest to busy professionals who would want a few minutes of solitude and personal time during their otherwise hectic day.
OPPO Watch also features five work out modes Fitness Run, Fat Burn Run, Outdoor Walk, Outdoor Cycling, and Swimming that not only records your daily exercise data but also provides targeted guidance on improving your routine.
But all the health-monitoring features can go for a toss if the smartwatch isn't water-resistant. That's why the OPPO Watch has 5ATM rating for water-resistance – this means your smartwatch won't suffer any damage even at a depth of 50 metres even if it's submerged for as long as 10 minutes. So whether it's light splashes of sweat, shallow-water activities, or a quick dip in the pool, your OPPO Watch can handle it easily.
Payments made easier than ever
OPPO Watch is your companion in all your activities, so why would shopping be any different? The smartwatch comes with an NFC chip that can be used to make payments quickly at NFC-based payment terminals.
OPPO Watch: A zero-compromise smartwatch experience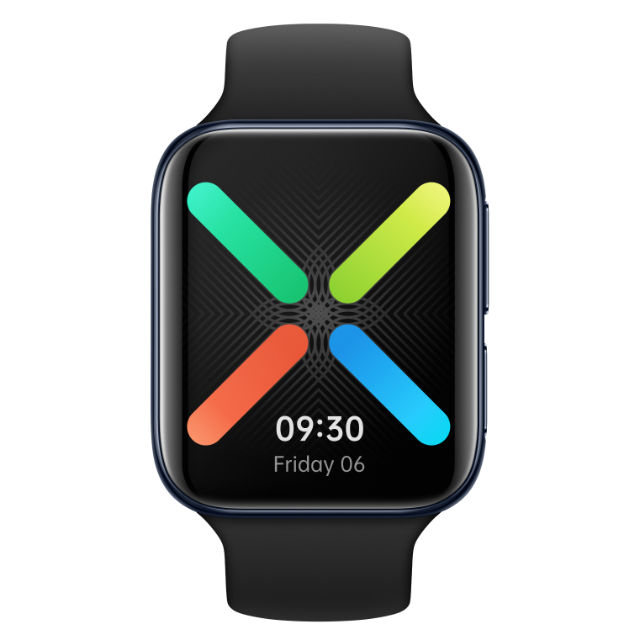 With some of the best features, top-notch design, world-class software experience at an amazing price point, the OPPO Watch will be the smartwatch of choice for millions of wearable enthusiasts in India. There is no denying that the smartwatch segment in India will never be the same with the advent of the OPPO Watch series.